Eviction Action – 3 Day Notice for Non-Payment of Rent – Condition Precedent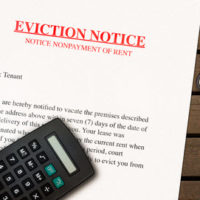 You can be evicted if you do not pay your rent. It's simple, "you pay you stay and you don't you go." Your landlord must, by law, first follow several specific steps prior to filing an eviction action with a court of competent jurisdiction. The first step must be to give you a 3-day notice for non-payment of rent.
The 3-day notice must be delivered to you, in writing, and include the following information:
A statement that you did not pay rent when it was due.
The exact amount of rent due.
The landlord's name, address, and telephone number.
The date the payment is due.
Your landlord does not need to have the sheriff deliver the notice to you. Your landlord can hand-deliver the notice, tape it to your door (called posting), or mail it to you.
The 3-day notice can only demand payment of rent. Unless your written lease agreement says otherwise, rent does not include:
late fees
security deposits
costs for repairs
The 3-day notice must give you 3 days to either pay the rent or move out. The 3 days does not include weekends, holidays (when the court clerk's office is closed), or the day the notice was delivered to you. Your landlord must add 5 days to the deadline to pay rent or move out if:
The notice is mailed to you.
The notice tells you to pay the rent to a post office box or out-of-town address.
Can the notice contain other charges?
No: The 3-day notice can only demand payment of rent, not other charges. However, if your lease says that certain charges are considered rent, the landlord can include those charges in the amount demanded.
Your landlord can only include a charge as rent in the amount demanded in the 3-day notice if both of the following are true:
You have a written lease.
The written lease clearly says the charge is considered rent or additional rent.
Can I pay less than the full amount? Does the landlord have to accept the rent?
Yes and no. Your landlord must accept your payment if you offer to pay the full amount of rent demanded in the 3-day notice by the deadline in the notice.
However, your landlord may refuse your payment if it is:
Less than the full amount demanded; or
Offered after the 3-day deadline has passed.
You should always keep proof of any payment that you make to your landlord. The proof should include the date and the exact amount paid.
LANDLORD/TENANT LAW IS COMPLEX AND CANNOT BE COVERED COMPLETELY IN THIS BLOG.  WE HIGHLY RECOMMEND THAT WHENEVER A SPECIFIC ISSUE ARISES, YOU CONSULT AN ATTORNEY.
Daniel M. Copeland, Attorney at Law, P.A.
9310 Old Kings Road, South
Suite 1501
Jacksonville, Florida 32257
Office: 904-482-0616
Facsimile: (904) 482-0618
E-mail: scopeland@dmcopelandlaw.com