DEFECTIVE CONSTRUCTION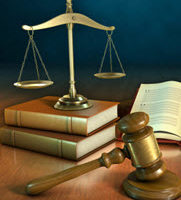 Notice of Defect Procedure Prior to Arbitration or Suit 
          This procedure applies only to claims for damages or loss of property by an alleged construction defect.  The law requires that before filing an action, a claimant must serve written notice on the contractor, subcontractor, supplier, or design professional describing the claim in reasonable detail sufficient to determine the general nature of each alleged defect and a description of the damage or loss resulting from the defect, if known.  The law suggests that the notice be served within 15 days of discovering the defect, but does not bar the filing of an action if served later.  The notice must be served for each alleged construction defect, but multiple defects may be included in one notice.
In order for this procedure to be effective, the following Notice must be included in the construction contract:
CHAPTER 558 NOTICE OF CLAIM 
          CHAPTER 558, FLORIDA STATUTES, CONTAINS IMPORTANT REQUIREMENTS YOU MUST FOLLOW BEFORE YOU MAY BRING ANY LEGAL ACTION FOR AN ALLEGED CONSTRUCTION DEFECT.  SIXTY DAYS BEFORE YOU BRING ANY LEGAL ACTION, YOU MUST DELIVER TO THE OTHER PARTY TO THIS CONTRACT A WRITTEN NOTICE, REFERRING TO CHAPTER 558, OF ANY CONSTRUCTION CONDITIONS YOU ALLEGE ARE DEFECTIVE AND PROVIDE SUCH PERSON THE OPPORTUNITY TO INSPECT THE ALLEGED CONSTRUCTION DEFECTS AND TO CONSIDER MAKING AN OFFER TO REPAIR OR PAY FOR THE ALLEGED CONSTRUCTION DEFECTS. YOU ARE NOT OBLIGATED TO ACCEPT ANY OFFER WHICH MAY BE MADE.  THERE ARE STRICT DEADLINES AND PROCEDURES UNDER THIS FLORIDA LAW WHICH MUST BE MET AND FOLLOWED TO PROTECT YOUR INTERESTS. 
To speak with an experienced attorney, call Daniel M. Copeland, Attorney at Law, P.A., at 904-482-0616 or submit a contact form.
Disclaimer: The information contained in this article is for general educational information only. This information does not constitute legal advice, is not intended to constitute legal advice, nor should it be relied upon as legal advice for your specific factual pattern or situation.