CAN A PROPERTY MANAGER FILE AN EVICTION?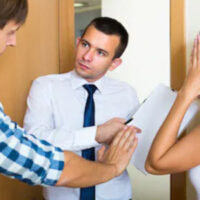 Evictions are inevitable part of the property management business. However, an eviction action should be handled by an experienced landlord-tenant attorney, but some property managers do not see the benefit, or they do not want to pay an attorney to handle the matter. In Florida, the law ONLY allows for a property manager to file an eviction complaint on behalf of the property owner for non-payment of rent using forms approved by the Supreme Court of Florida. The property manager must have written authorization from the landlord, and cannot file suit in its own name or seek a money judgment. Once the eviction becomes contested, meaning once the tenant files an answer or other pleading or a hearing is required – the property manager cannot take any further actions. Only an attorney is authorized to handle contested evictions on behalf of a landlord.
To clarify, a property manager cannot handle any contested matters or issues, file any motions or proposed orders, appear at hearings on behalf of the property owner, or seek an order for back rent. If they do, they are illegally practicing law and doing a great disservice to their client, the property owner.
The property manager who makes the mistake of illegally practicing law or mishandling an eviction action may be held liable for a wrongful eviction, which could include being ordered to pay damages, attorney's fees and costs. One wrong decision could wind up costing the property owner or property manager thousands of dollars.
Daniel M. Copeland, Attorney at Law, P.A. eliminates these risks whereby allowing the property manager to manage the property and the property owner to profit from their property.
                CALL DANIEL M. COPELAND, ATTORNEY AT LAW, P.A. AT 904-482-0616 FOR A FREE CONSULTATION.